I haven't mentioned the C word on here yet, but let's be real: humanity is slightly fucked at the moment. This corona crisis affects us all in some way, including me and this blog. And although I don't want to dwell on it too long, I thought I should mention it.
Seeing as most of my readers aren't from the Netherlands, I figured it would be good to start of with telling you how the situation is over here. Since last week any kind of gathering of 100 of more people was prohibited, and most places closed down. This measure was originally till the 6th of April. Since Monday extra measures have been added to that: no gathering of any size is allowed till the 1st of June, any groups larger than 3 people who don't keep distance are fined. At the moment restaurants etc are still to open on the 6th of April, but that might (will probably) change. We are advised to stay indoors as much as possible, and when you do Have to go outside to do so alone.
Note: this post has been written on Tuesday morning. Things are changing so fast it might not be entirely accurate anymore
So what does that mean for me and The Husband? We both work in the F&B department of a zoo, which is closed at the moment. We work on a zero-hour contract, which means no work = no pay. Our employer let us know that plans are being made, but it all is still very vague. We have also been advised from other sides to ask for welfare (I think it is called in English, not sure). The problem is though that if we were to ask for that, they are likely to withdraw The Husband's residence permit. We seem to be facing the choice between not being able to pay our rent or having The Husband kicked out of the country.
That all sounds more dramatic than it probably is. There are so many people in the same situation as us, I am sure a solution will arise. And we are very busy trying to find said solution. But in the mean time, I am not doing too great. I have mentioned in another post that I started this month of struggling with anxiety and panic attacks… save to say that situation hasn't improved too much.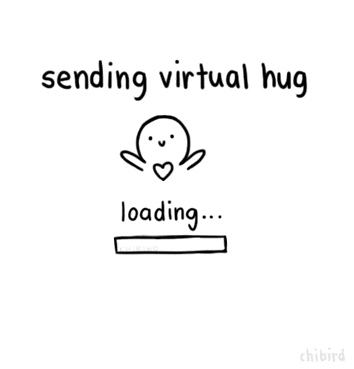 ---
But it is not all bad… for example, I don't have to put pants on anymore! I and all I know are healthy, and I am married to a mad man who keeps me company and does a wonderful job at making me laugh.
And I have all this time on my hands in which I can read all of the books. I also hope to write more posts. I am not saying I will be putting something up every day, but do expect to see a lot more activity on here. There are a bunch of reviews coming your way, I am planning to do some tags, reading recommendations and tomorrow I will be sharing some food pics. If there is anything you would like me to talk about, just let me know.
---
In the mean time there are a lot of people and initiatives out there trying to make this all a bit easier for everyone. Here are some I have been enjoying a lot over the last few days:
Lauren (and the books) is The person to watch when you want some positivity in your day. Last week she posted a video every day. And she hosts a Stay at Home Club: Cosy Reading Night every other Friday, which is such a joy to partake in.
G from Book Roast put up a great video you should have a look at if all of this is getting a bit too much for you. She has struggled with anxiety for a while and has always been very open about it. In this video shares some things that help her get through the day. Also, she hosts the Magical Readathon in April which is such a fun event I highly encourage you to have a look at.
Hazel Hayes is a wonderful Irish lady who is posting a (rambly) video every day in self isolation. So if you just need someone to talk to you, watch these. She has her debut book coming out in the middle of all this, so her videos do tend to focus on books and writing and she even reads the first chapter of her book to us.
Leena's Creative Lock-In, in which the amazing Leena Norms livestreams for about two hours every weekday hosting art sprints and just generally keeps you company whilst you are working from home (on your creative project).
I adore Taskmaster. If you don't know it, now would be a great time to start watching it. It never fails to make me laugh out loud. They are now hosting Hometasking. Three times a week Alex sets you a task to be completed whilst you are in self isolation, and post (video) evidence of it on twitter using #hometasking. You don't have to join of course, but watching every else's attempts is already great fun.
I have been using Scribd for about a year now, and do generally really enjoy it. It has its issues, but it makes up for that in having lots of free books. Especially now that my phone has really decided to be a piece of shit and does not want to work with either Audible and Kindle anymore, I am addicted to Scribd. So the fact that they are now giving people 30 day access without any commitment needed is great.
Yes, I know I just said that Audible isn't working on my phone anymore. But I did have to mention this: Audible has made a great selection of kids books available to stream for free. I don't think you need to make an account either. Their selection ranges from the littlest listeners (123: Learn to count with songs and rhymes) to teens (The Unexpected Everything). There seems to be something there for everyone.
---
That is all from me for now. I hope you are all doing well. Let me know what you do to get through the day, any tips are always welcome.
Lots of love,